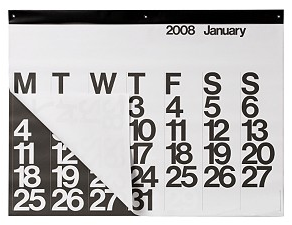 I picked up this Stendig Calendar at Jack Spade a few weeks back, and one for Carlo and Melvin as well, my friend Alex had said it was nice and big and would fill part of my bare walls, and it did quite nicely.
So, New Years Resolutions.
First of course is to post more frequently.
Second, I'd like to do more Ebaying. I have my eye on something right now!
Third, I would like to have more "detalle" (detail) Basically, that's how Cubans refer to people who always just go the extra inch with their thoughtfulness, so yes, I'd like to have more detail with my family and close friends and Carlo of course. So that means remembering to call my grandparents, sending birthday cards, and the always fun, "I got you this for no reason". So Happy New Year, and let's see how well I do!